Perforation shapes stainless steel
Perfox is a specialist in perforating stainless steel and countless other types of material. In our own tool workshop, we can develop a tool for practically any hole shape. You can come to us for both standard perforations, such as round or square hole shapes, but also for special perforations. Nose perforations, slot hole perforations or embossed perforations: the Perfox toolmakers develop a tool for any perforation. Our all-across presses and sectional press perforate the perforation profile into one or many stainless-steel plates.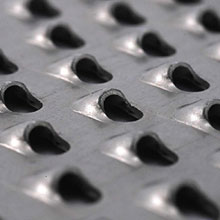 Perforating stainless steel
Stainless steel has the special property that it does not rust, or very slowly. In the world of stainless steel, different sorts and types can be distinguished. The extensive Perfox range of machinery and our own tool workshop make it possible to perforate all these sorts and types of stainless steel. From perforated Type 304 stainless steel to perforated Type 316 stainless steel and from perforated ferritic steel types to martensitic steel types.
Case stories perforated stainless steel
In our factory in Veendam, the Netherlands, we make perforated stainless-steel plates for different applications. Please contact us for more information.
Please contact us